Misled Animal Rights Campaign Attack Progressive NC School for Sustainable Living:  The need for unification of the left in the era of Trump
Beautiful Photos can be found at http://wildabundance.net/press-release-images/.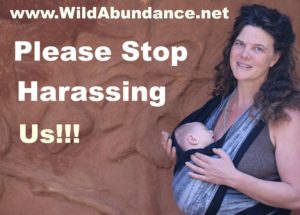 Wild Abundance, a woman-led school committed to teaching skills for sustainable living near Asheville, NC, has recently come under attack, facing a fierce campaign of harassment from a large misguided animal rights organization. The national organization responsible for the attacks, One Protest, whose campaigns usually focus on exotic trophy hunting and farming-industry animal abuse, has organized a movement against this small, rural progressive school because of a class in which a single sheep will be harvested, for educational purposes and as part of a weekend intensive focusing on meat preservation for small-scale family farms. The conflict highlights what happens when well-intentioned activist groups focus their resources on attacking other like-minded communities, instead of staying focused on the more pressing issues. In the era of Trump politics, the left needs to work together, not waste resources on in-fighting, and organize for a more sustainable and just world. The social media campaigns and change.org petitions are escalating by the day as the largely non-local vegan activists increase their attacks, and the regional local-food and small-farms supporters begin to defend Wild Abundance and call for the harassment to be stopped.  We will see how this plays out on November 19th.

The day after Trump's victory, Natalie Bogwalker, the mother of a 3 week-old infant, and Director of Wild Abundance, a school near Asheville, N.C., that teaches  Permaculture Design Courses, and classes on Homesteading, Natural Building, Women's Carpentry, and Organic Gardening, began receiving a flood of emails and phone calls at all hours demanding that she cancel an upcoming class on ethical butchering; one of the calls was even a direct threat. The aggressive vegan activists are waging a "multi-pronged outreach and protest campaign" to "make an example" of Wild Abundance.  During the class, which is called "Cycles of Life: Humane Slaughter and Butchering," set to run November 19-20, adult students will learn how to take responsibility for their choice to eat meat, putting it in the context of cultivating a healthy and spiritual relationship with their food, as their ancestors have done for thousands of years.  
Wild Abundance is a woman-founded and led school. It is a rural Appalachian business that provides good jobs to our local community.  Its mission is to "empower class participants to live with profound knowledge, respect, and appreciation for nature's abundance by offering classes that teach sustainable living skills."  Classes focus on empowering women to learn carpentry and natural building, connecting folks to a more holistic approach of living in Appalachia through wild-crafting, gardening, cooking, and permaculture.  Other classes, for those who choose to use animal products, connect students with deep ancestral lifeways like hide-tanning, and the sacred process of taking animal life to provide meat for one's family and community.   Wild Abundance aims to put together classes that are racially diverse and culturally sensitive, reaching out to old-timey neighbors and urban students, and building cultural bridges.  Wild Abundance appreciates and accommodates vegetarians and vegans, who make up 15-30% of class participants.
Natalie Bogwalker, holding her tiny infant shares, "In order to reconnect with the earth, we have to understand where our food comes from, and we have to build and support a local food system. We hope that Let Live and its parent organization, One Protest can redirect energy toward the source of the mass cruelty inflicted on animals in this country through factory farming, and toward educating consumers about the repercussions of the choices that they make at the grocery store.  Targeting Wild Abundance, which is killing one sheep in a humane and respectful way, where we will use absolutely all of the animal, seems like a cruel joke when one looks at the context of what is going on with animal agriculture and with politics in general in the shadow of the Trump election.  We should be working together to stop hate crimes, Big Ag, and climate change, not squabbling over personal dietary choices."
Aiyanna Sezak-Blatt, a vegetarian student in Wild Abundance's Essentials of Permaculture and Homesteading Course shared, "I do not have the desire or the strength to slaughter an animal myself, and so I do not eat them. But if I did, I would do so this way. I would face the life and the death, and I would have Natalie Bogwalker there to teach, guide, and show me the way." She continued, "In a grocery-story dependent culture, most people rarely see where their food is grown, and never see the factory settings that mass produce 99% of meat, milk and eggs sold on the market. Humans used to be intimately tied to their food system, and animals were raised and slaughtered on family homesteads. There was a relationship between human and animal, and culture and landscape, a spiritual bond and connection that is being lost today; replaced instead by convenient and invisible food systems that are deeply corrupt, producing meat from animals who are tortured, sick and suffering."
Biodiverse farming, ethical meat, whole-animal utilization are keys to sustainable food.  For example, domestic animals finished on grass have the potential to sequester up to 5 tons of CO2 in the soil per acre per year.  Additionally, animals fed diets in line with their biological needs are better able to digest and assimilate nutrients, leading to less enteric fermentation and methane production. Education about whole-animal butchery enables consumers with budget constraints to access protein that has been left out of the marketplace, and even wasted in the most grievous examples of factory farming. The lack of dialogue and research about farming systems that integrate plant and animal agriculture, and diverse eating has given too much power to narrow agendas. Animals have a place in a dynamic farm ecosystem, and in the ecosystem of our bodies.
The lead teacher for this class, Meredith Leigh, author of the recent book The Ethical Meat Handbook, was harassed to her limit.  She has chosen to step down as lead teacher because she did not want to take the life of an animal while in an emotional space so disturbed by  vegan hostility. "To truly demonstrate ethical slaughter, I need to feel centered,"  Leigh contends, "the contentious atmosphere created by the Let Live Coalition has been very troubling. I am choosing to step down and Wild Abundance is bringing in a capable substitute who will remain anonymous, so that he can be fully present for the animal and the students." Leigh will still teach at the class on the second day, and remains in full support of the event and the work of ethical meat. "True sustainability has room for more than one diet." she adds.  
Emily Bell, Assistant Director of Wild Abundance shares her experience,"Some people choose to eat meat, we want them to have a full understanding of the consequences of their choices. My body, especially during pregnancy, thrives on meat being part of my diet. Others' bodies may not. I respect others' choices. I hope that others can respect my choice. Some folks might take the class, and when encountered with the gravity of death, might choose not to eat meat. I expect this class will give all the participants the experience to find out what they personally need and what they want to be responsible for."
Progressives and food activists need to be asking themselves: What if vegans and ethical meat activists could work together to solve the problems of industrial agriculture?   What if Clinton and Sanders supporters could have worked together during the primaries?  What if progressives and liberals from all walks of life, and with all dietary choices, could work together to focus on the important issues, stop infighting, and take back our country from Donald Trump?  
More information about Wild Abundance, and its classes that reconnect folks with their food, shelter, and their place in the web of life can be found at www.WildAbundance.net.  Meredith's book, The Ethical Meat Handbook can be purchased at www.MereLeighFood.com.  
For further details, please Contact Natalie Bogwalker at WildAbundanceNC@gmail.com, or text to arrange a phone call at 828-775-7052 (she is not always answering the phone due to the barrage of harassing phone calls).